I'm a little late getting today's post up due to some internet outages – but these outages come with GOOD news: The fiber-optic cables that we've been promised are going in on our street at last! This, hopefully, will improve the internet's reliability (which hasn't been very good as of late), and also improve the quality of the internet we get here.
That aside, I'm extremely excited to bring you all today's interview. Some time ago, I had an interview from KIDeveryday (who shared a Double Feature with her mother) who was all of fourteen years old. Today, I bring you an even younger entrepreneur, at thirteen! I could go on at length about how this warms my heart, but I'll instead let her story warm yours!

Today I bring you Abby from ThePolyShop of Zibbet.
Name: Abby Colegrove
Craft: Miniature Food and Food Jewelry
Favorite material (or medium, whatever you want to call it!): Polymer clay. It's so quick to work with! It only takes about 10 minutes to harden the clay in the oven, and there are so many things you can do with clay!
Most Popular Seller (whether it be online or at shows): So far, I don't have a Most Popular Seller, since I've only sold literally one pendant, but I'm hoping that soon, I'll be able to list an item as my most popular seller!
The item with the most views, hearts, etc., though, would be this one: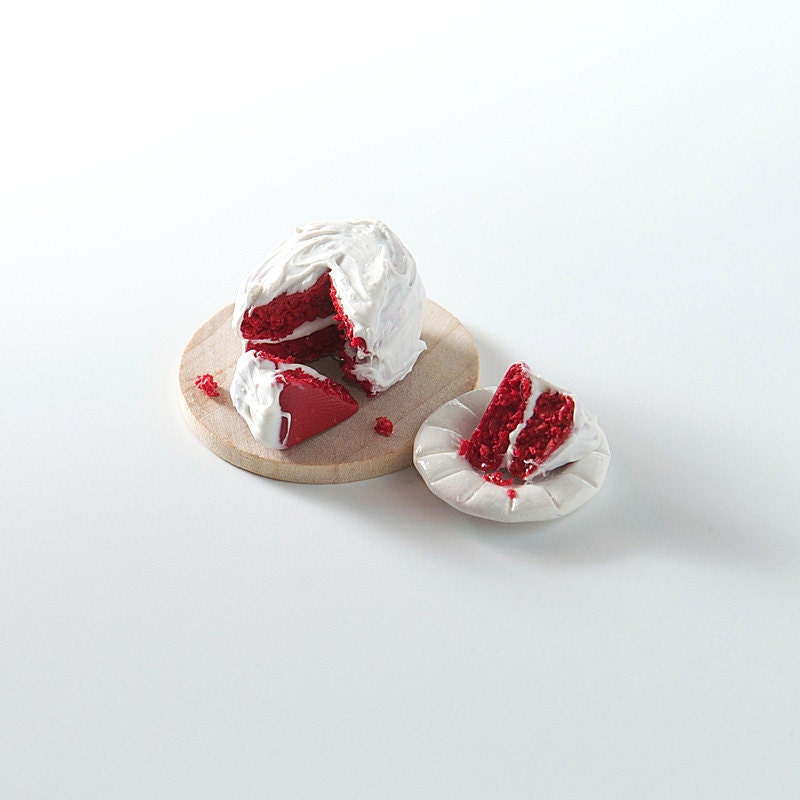 Polymer Clay Miniature Red Velvet Cake and Slice
This is absolutely adorable! Then again, I also have a weakness for Red Velvet cake, and this looks tasty enough to eat! Incredible detail, even with crumbs!!
What got you into your craft?
Probably my best friend. She got some polymer clay, and said it was great, so I got some and tried it. Bingo! I love it now! I probably should thank her more often than I do for introducing me to clay. :)
How did you learn your craft?
From other clay artists. I also played around with it a bunch. I admit, tutorials helped a bunch. In fact, my items wouldn't be as detailed as they are right now without them.
Polymer Clay Dollhouse Miniature Set of Bakery Bread
Complete with flour-powder marks, and the nooks and crannies that indicate torn bread! Love it!
What about YOU? Who is the artist behind those wonderful items?
I'm 13 years old, and home-schooled. I'm a HUGE Whovian, Potterhead, and Tribute. ;) Mostly Whovian though. My room is chock full of Doctor Who stuff, including a life size cardboard TARDIS my friends made me for my birthday. <3
My hair is dyed red (like, not orange-red, like RED red), and I have blue eyes, so this might have inspired my shop's color scheme (aqua blue and red/pink). :)
Polymer Clay Sushi Pendant
Though I prefer Tuna, this Salmon looks awfully tasty… The detail on the rice might be a bit hard to see, but it's phenomenal, since each grain was made individually.
What is a typical "working" day for you? How does it usually start and end? How many hours do you spend crafting? How many hours do you spend on other things? What about distractions? I know we all have them! Do you usually accomplish all you wanted to?
Well, I don't have a working day. I make what I want, when I want. Lately I haven't really been in the mood for crafting stuff, but I am working on getting new items listed, and I'm also currently working on a new site for my shop.
Sometimes, when I'm on a creative roll, I can work for hours. Sometimes, when I only have a few ideas, I work for an hour or so. Because I don't consider this my job (I'm only 13, LOL), I don't keep myself working. I work when I want to. I enjoy it, and I just sell it as a hobby, not as a job.
Distractions. Well, when I'm in my "zone", as I call it (with my bedroom door shut and my bright lamp aimed at my desk) it's difficult to be distracted by something. Although, I am distracted by my family coming in my room and asking me to do something. I can't work all day, I have chores and stuff to do at some point, but for the most part, my family doesn't bother me often.
I think the thing that distracts me most, though, are other things I want to do. Maybe I wanna watch Doctor Who. Maybe I wanna chat my friend. Maybe I wanna browse Facebook. Maybe I wanna write a blog post. Sometimes I just have to give in and take a break, but that usually ends up in my desk being empty and lonely the rest of the day. I don't mind, though. I don't want to work so much that I begin to hate it. Everyone needs breaks.
I usually don't accomplish all I wanted to, for the reasons listed above. But, I do eventually accomplish it, so I don't stress over that.
What happens when you Oops? Everyone gets one sometime or another! Do you get frustrated and destroy/start over, or do you go with the flow and see what comes out in the end?
When I Oops, if the item is REALLY bad, I usually just wad the clay up and toss it in the Mud bin (all my scrap clay mixed up into one color). If it's semi-bad, I go ahead and bake it and keep it, just to look at and see what I can change to make it better.
I usually don't try again right away. I move onto something else. Making two things, one right after the other, bores me to death, so I just make something else.

Pumpkin Pie Dangle Earrings Polymer Clay
Perfect for that snack on-the-go, when you just need a slice of pie!
What is your design process like? How many tries does it take to be happy with the final product?
Hmm...well, since clay is mushy, I can just play around with textures and things and figure out what texture would be great for what food. Most of the time, it only takes one try to be happy with the final product, because food is food. If I made it good, I like it, if it sucks, I trash it and move on to something else. I don't like lingering on one thing for a long time.


Ham and Cheese Sandwich with Grapes Polymer Clay Dollhouse Miniature Food
Once again, this looks more than tasty enough to eat! The detail is simply amazing!
What is your greatest roadblock, be it government regulation or that little frustrating thing that just likes to sneak up and stop you in your tracks? Broken needle? Jump ring jumping out of your pliers? Thread knots? Cats? Dogs? The family hedgehog rolled about in your yarn basket?

Interesting that you mentioned the jump ring thing. That does happen, but I wouldn't call it a roadblock. I think the biggest thing is getting photos taken for my items. I take the photos, and then don't the items listed for weeks at a time because I can't upload the photos myself, I need someone else to do it. I've just learned to be extremely patient.
All important pricing... Do you have a formula? Do you wing it? Do you feel your work justifies your prices?
I don't have a formula. I think it varies for each item. I think I price the item by how difficult it was to make it. If it was easy, a low price, if it was hard and took hours to make, then a higher price! I price to what I feel is right. I go with my gut feelings.



Triple-Layered Chocolate Cake Polymer Clay Charm/Pendant
This makes me want to go make a cake… since I want to eat it!
And of course, is there anything else you'd like to say to our "viewers at home"?
I want to say, that if you think you can't do something, just try it. Maybe you won't like it, but you might just discover something else you like along the way!!
If you want to try selling stuff, you can use Zibbet. It's free, so it's worth a try!
I encourage all crafters, artists, and hobbyists to go with their heart! Make what you love! Don't listen to anyone else, and craft to your heart's content!
I love all my fans, every one of them, for taking the time to look at my things! I wouldn't be here without you!
So, Like my page on Facebook if you're interested in seeing Behind the Scenes looks at my shop, entering giveaways (which I have quite often), and getting exclusive deals for Facebook fans! I also have a site that I'm working on, which you can view right now (even though it isn't completely finished yet). My site is thepolyshop.weebly.com. You can check out my older site as well, with all the blog posts. thepolyshop.wordpress.com.
Thank you, Abby, for taking the time to tell us your story. Your work is phenomenal and incredibly detailed. Any doll in any dollhouse would surely love these, and I certainly think the wearable items are just as awesome, considering holidays almost always center around food and family! Who wouldn't want to wear a bit of their favorite?
Make sure to visit Abby at her Zibbet Shop, The Poly Shop!
Until next week everyone! Thank you for reading!